As the new academic year begins in the UK, thousands of students will be putting holidays behind them and starting some serious study. For many students one place to go will be The British Library.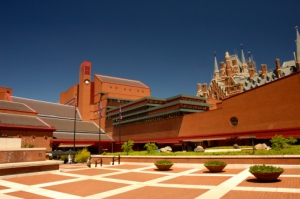 This national library of the United Kingdom is the largest library in the world by number of items catalogued.  It holds around 170 million items from many countries, in many languages and in many formats, both print and digital. The collections include around 14 million books, along with substantial holdings of manuscripts and historical items dating back as far as 2000 BC.
One of its greatest treasures, the Codex Sinaiticus (handwritten in the 4th century AD), is the world's oldest Bible. In October this year it will on loan to the British Museum for an exhibition exploring 1,200 years of Christian, Islamic and Jewish faith called 'Egypt After The Pharaohs' (29 October '15 to 7 February '16).
About 3 million items are added every year occupying 9.6 kilometres (6.0 miles) of new shelf space. This is graphic evidence of the truth of  Solomon's remark in the Bible that "of making many books there is no end".
Much study wearies the body!
Solomon was known in his day for his great wisdom and he continued his observations by saying that "much study wearies the body" (Eccl.12:12 NIV). Every student can certainly vouch for this, for after poring over calculus or biology books for hours you get very tired.
In spite of the fact that studying books can make you tired, we still find more and more books being written and more and more students poring over them in order to increase their knowledge.
In view of this thirst for learning which regularly fills the colleges and universities to overflowing, it might seem reasonable to expect that interest in God's book – the Bible – would also be increasing.
Unfortunately, this is not the case.
Foolishness?
There is a very good reason for the lack of interest in the Bible in this highly intellectual space age. Many people think that reading the Bible is a waste of time, that it has nothing useful to say about our world today.
But this lack of interest in what God has to say is not new.
When the Apostle Paul was 'taken to court' by the Jews 2000 years ago and had to defend himself before King Agrippa, the King eventually got tired of listening to what Paul was telling him about God's plan for the world and interrupted him with the comment:
"Much learning is driving you mad" (Acts 26:24 NKJV)
In one of his letters the Apostle Paul told some Christians in Corinth that it was foolish to ignore what the Bible says in their search for true wisdom:
"Where is the wise? Where is the scribe? Where is the disputer of this age? Has not God made foolish the wisdom of this world? For since, in the wisdom of God, the world through wisdom did not know God, it pleased God through the foolishness of the message preached to save those who believe. For Jews request a sign, and Greeks seek after wisdom; but we preach Christ crucified, to the Jews a stumbling block and to the Greeks foolishness, but to those who are called, both Jews and Greeks, Christ the power of God and the wisdom of God. Because the foolishness of God is wiser than men, and the weakness of God is stronger than men." (1 Corinthians 1:20-25 NKJV)
In much the same way today, many people are busy learning and teaching so-called "important" things and don't allow enough time to listen to what God has to say.
Knowledge that really matters
With all the unsolved problems that face mankind today, with wars filling the headlines and the threat of climate change hanging over our heads, it seems at the very least to be totally negligent and thoroughly irresponsible not to turn to the Bibles for guidance, for comfort, for instruction and for help.
Worldly wisdom in itself is not a sin. But if we allow it to take away the time we should give to God and his wisdom then academic study can become a very bad master. There is only so much time available to each of us and none of us knows when – for each of us – time will run out!
So the questions we must each ask ourselves is: Are we spending our time wisely? Are we failing to put first things first?
We can never ever read a tiny fraction of the books that are available. We shall never know everything about anything.
So what shall we study and which book shall we read first?
If we only had six months to live it wouldn't matter very much how much we knew about astronomy, physics, medicine, economics, ancient history or geology. These are all admittedly worthwhile subjects about which we would like to know more, but now – with only six months to live – there isn't any use learning more because we shall never have an opportunity to use what we know already.
There is only one kind of knowledge that matters at a time like this. It is the kind of knowledge that a young man called Timothy had when Paul wrote him a personal letter. Paul commended him saying:
"…from childhood you have known the Holy Scriptures, which are able to make you wise for salvation through faith which is in Christ Jesus. All Scripture is given by inspiration of God, and is profitable for doctrine, for reproof, for correction, for instruction in righteousness, that the man of God may be complete, thoroughly equipped for every good work." (2 Timothy 3:15-17 NKJV)
As a new academic year starts, we do well to make sure that we always find time to read the Bible, that we are also fully "equipped for every good work", and that we find enough time to include those things that are able to make us "wise unto salvation".